First, Dream Golf Range is the world's largest circular golf range.
Dream Golf Range is the world's largest circular golf range. Every golfer's dream is to improve his or her score by measuring the distance and shot direction accurately. However, such a dream couldn't be achieved at golf ranges. It's not possible to practice at golf courses, either. However, the golfer's dream can be realized at Dream Golf Range, which is equipped with 300 auto tee up platforms.
Also, the range is the longest in Korea with 400 yards. The beautiful view of the ocean and open fairways covered with natural grass will provide the golfers the experience of practicing golf in a course-like setting.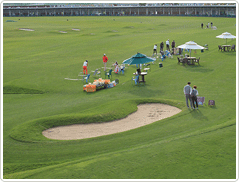 Second, the driving range is Korea's first course like range.
What do driving ranges in Korea lack? The golf ranges lack the conditions of real golf courses. Dream Golf Range is equipped with grass platforms, natural grass putting greens (including 36 putting holes), bunkers, and chip shot areas so that every situation could be simulated. Improve your golf skills by practicing golf in a real setting.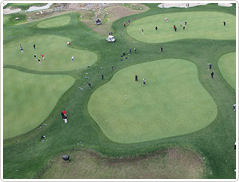 Third, the driving range is the largest in the world.
As soon as the golf range opens, it will be recorded in the Guinnes World Book of Records as the largest driving range in the world. The driving range, along with the Korean golfers who rock the golf world, will be a pride of Korea. The largest golf range in the world is in Korea. Please realize your dream in the driving range of your dream.